Cyclops
is an
action-adventure
novel by
Clive Cussler
. This is the 8th book featuring the author's primary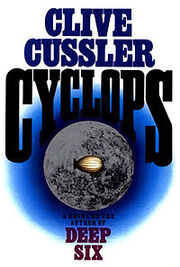 protagonist,
Dirk Pitt
. A wealthy American financier disappears on a treasure hunt in an antique blimp. From Cuban waters, the blimp drifts toward Florida with a crew of dead men -- Soviet cosmonauts. Dirk Pitt discovers a shocking scheme: a covert group of U.S. industrialists has put a colony on the moon, a secret base they will defend at any cost. Threatened in space, the Russians are about to strike a savage blow in Cuba -- and only Dirk Pitt can stop them. From a Cuban torture chamber to the cold ocean depths, Pitt is racing to defuse an international conspiracy that threatens to shatter the Earth!
[[[Cyclops (novel)|edit]]] Characters in "Cyclops"
Edit
Ad blocker interference detected!
Wikia is a free-to-use site that makes money from advertising. We have a modified experience for viewers using ad blockers

Wikia is not accessible if you've made further modifications. Remove the custom ad blocker rule(s) and the page will load as expected.