Dragon
is an
adventure novel
by
Clive Cussler
. This is the 10th book featuring the author's primary protagonist,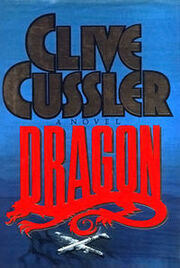 Dirk Pitt. A bomber, carrying a third nuclear bomb to Japan in 1945, is shot down in the Sea of Japan. Now, terrorists want to restore Japan's former glory by taking out the United States economy by planting nuclear bombs. The only hope for the free world is Dirk Pitt and the final World War Two nuclear weapon!
[[[Dragon (Clive Cussler novel)|edit]]] Characters in "Dragon"
Edit
Ad blocker interference detected!
Wikia is a free-to-use site that makes money from advertising. We have a modified experience for viewers using ad blockers

Wikia is not accessible if you've made further modifications. Remove the custom ad blocker rule(s) and the page will load as expected.