PLOT
A fabulously wealthy Chinese businessman is making a fortune smuggling Chinese immigrants. Dirk Pitt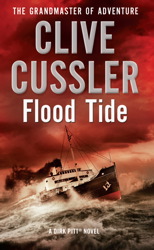 becomes suspicious and begins to track him. The trail leads him from Washington to Louisiana where the villain is building a huge shipping port - apparently in the middle of nowhere. Pitt's continuing investigation reveals that his instincts were right - he is on the tail of a master villain and not only lives are at stake. Dirk Pitt must stop him at all costs.
CHARACTERS
Dirk Pitt – Special Projects Director for the National Underwater and Marine Agency (NUMA)
Admiral James Sandecker – Chief Director of NUMA
Al Giordino – Assistant Special Projects Director for NUMA.
Rudi Gunn – Director of Logistics for NUMA.
Julia Marie Lee - Undercover agent with the International Affairs Division of the U.S. Immigration and Naturalization Service. Born in San Francisco. Has dove-gray eyes, blue-black hair, and Asian features. Pitt saves her after being thrown into Orion Lake to die of drowning by Shang's henchmen.
Qin Shang - The greedy, evil, Chinese shipping magnate who smuggles illegal Chinese immigrants into countries around the world; including the United States.